Wishing you a very happy Holiday Season and may your 2013 be bright and successful!
We look forward to continuing our relationship in the coming year.
All the best to you and your family!
Jeremy and Heavenly Ryan
Advantage Creations is proud to announce that we have upgraded Cart32 to Cart32 V8.0! Below are just some of the new features in this new version:
One page checkout
Seamless integration with QuickBooks
Completely redesigned Ajaxified interface, new look & feel
More options, tweaks, and customization
Full list of features include:
Setup
 
Web-based control panel
 
No software to install
 
No HTML or programming experience required
 
Free manual, videos, tutorials, how-to articles, other resources
 
United States based customer service
 
Free technical support via phone, email, and chat
 
Supports Microsoft® Access, MySQL®, and Microsoft® SQL Server databases
 
Import existing products database (limited compatibility)
 
Export and import Cart32 client data and settings
Products & Inventory
 
Easily add products to your existing website using our HTML form wizard
 
Easy to use options builder for product options such as size and color
 
No product limits
 
Offer quantity discounts, custom discounts, and coupon codes
 
Sell and accept gift certificates
 
Inventory management automatically deducts items from inventory on completion of sale
 
Generate inventory reports based on your set reorder points
 
Integrates with QuickBooks® using .iif file format
 
Support for downloadable products or softgoods such as .mp3 or .pdf
Design & Layout
 
Easily add shopping cart to existing web site
 
Customizable templates for check out pages
 
Easily match check out pages to existing web site
 
Compatible with FrontPage® and Dreamweaver® *
 
Complete control over store design
 
Support for Cascading Style Sheet (CSS)
 
Support for button images
 
Functions to update item, delete item, empty cart, and continue shopping
 
Support for .asp, .php, etc. on checkout pages
Order Processing
 
Change currency format
 
Offline credit card processing, phone orders, and C.O.D.
 
Create your own payment options
 
Integrates with Google Checkout®
 
Integrates with buySAFE®
 
Integrates with PayPal®
 
Integrates with PayPal® Website Payments Pro
 
Compatible with Authorize.net, Linkpoint, Verisign, and more
 
Online real time credit card processing with over 50 gateways.
   Cart32 compatible payment gateways.
 
Electronic check payments (ACH)
 
CVV2 security code support
 
Export order data to .txt, .csv, or flat file
 
Support for preCharge, Verified by Visa, and Mastercard SecureCode
 
Support for running an external script after an order has been placed
 
Shipping & Tax
 
Create you own tax settings
 
Designate items as tax exempt or special tax
 
Exclude item(s) from tax or apply special tax per item
 
Flat tax or per item tax
 
Base tax on City, City/State, County, County/State, Country, Zip code range
 
Tax on shipping optional
 
Create you own shipping configurations
 
Ship by price, weight, number of items, and more
 
Add handling charges
 
Designate minimum shipping charges
 
Designate free shipping on items
 
Separate shipping into multiple boxes
 
Support for international shipping
 
Specify max weight per box and item ships in own box
 
Restrict shipping based on location using state, country, or zip code range
 
Supports tracking numbers for shipping carriers
 
Integrates with major shipping carriers
 
Integrates with DHL, FedEx, and USPS real-time rates
 
Integrates with UPS rates database
 
Create shipping labels for DHL, FedEx, and USPS
 
6 shipping configurations available. Cart32 shipping types.
 
Display multiple shipping types
 
Conditions to hide/show shipping configurations
Reporting & Analysis
 
Customer list
 
Order list
 
Sales report *
 
Sales tax report *
 
Sales by customer report *
 
Lost sales report *
 
Inventory report *
Marketing
 
Attracta – Search Engine Submission and Automated SEO. 
 
Constant Contact. 
 
Verisign. To learn more about the Verisign Trust seal program
Shopper Features
 
All customer data is stored in database
 
Repeat customer information stored
 
Customers can view order history
 
Live order status and tracking
 
User account login
Customer Service
 
All orders stored in a database for easy recall
 
Cart summary window shows items in cart on your web site
 
View live orders on your web site *
 
Integrates with several referral programs
 
Send newsletters to customers
 
Customizable order emails
 
Automatic confirmation emails
 
Order status emails (processed, shipped, etc.)
Security
 
Password-protected admin access
 
Full HTTPS/SSL support
 
Secure HTTPS/SSL admin access
 
Secure Public/Private Key Encryption
Disclaimer
 
*Assumes purchase of additional Cart32 addons.
If you are already using Cart32 with us, your account has already been upgraded to Cart32 V8.0 free of charge. 
Cart32 hosting with us is only $120/year or $15/month (or $99/year or $10/month without Cart32). If you have any questions regarding Cart32 V7.0 or regarding Cart32 hosting, please contact us.
A few months ago, we were approached by Professional Carpet Systems of Vermont to create and market a new website. They had lost their previous website and needed to start over from scratch, new domain and everything.
Luckily, we were able to locate parts of the old website and recreate it.
We then enhanced it and optimized it for the best keywords for their business. We then continued to optimize the site and gather new links for the website over 2-3 months. After which time the brand new website is already ranking #1 on Bing/Yahoo for vermont carpet cleaning and #3 for carpet cleaning vermont.  The site is also ranking on the 1st page of search results on Google and climbing!
They are also now getting leads, whereas with the old site they told us they never received one. I am so glad that the site has been successful and so quickly!
We would be glad to help you form a link partner strategy, search engine optimization strategy, pay-per-click strategy or full internet marketing plan.
If you have lost your website and would like help with getting a copy and/or recreating it… we can help with this too for a very modest cost.
Just click here to send me a message or call us at 802-735-2149.
Just got back from the Burlington Business Association (BBA) 2011 Waterfront "FAM" Tour.
The general theme was that the Burlington Waterfront is open for business! Many companies/ locations on the waterfront are either open for business currently or plan to be in operation within the next 1-2 weeks. For example, the cruises, ECHO, the boathouse, Splash are now open, but the Schooner and Maritime Museum are expected to be operational within 1-2 weeks.
The Ferries and the Lake Monsters are planning on reopening their waterfront location as the building is structurally sound.
The Bike Path has parts closed due to repairs, most notable areas are Lakeside Ave N to Perkins pier, North of Starr Farm, Northshore area to N Ave ext, 127.
The concern is that many people may believe that nothing is open on the watefront due to all the flooding but today many organization spoke to dismiss these concerns and that much is open and ready and the rest is planning to be opening very soon. Also, many of the usual events are going on as planned. So let everyone know that the Burlington Waterfront is open for business!
Below is a photo gallery (by Heavenly Ryan) of the Burlington Watefront Tour:
Below are some of the upcoming Burlington Downtown and Waterfront Events for 2011:
The morning cruise on the Spirit of Ethan Allen was great… the rain let up and some sun came through making for a nice trip.
There was a great turnout and many speakers representing the Burlington Waterfront area businesses. Below are the organizations represented:
Thanks to Kelly Devine and staff of the BBA, the speakers, and staff of the Spirit of Ethan Allen for a great morning cruise on the beautiful Lake Champlain and for an encouraging outlook on this year's Burlington summer season!
Please feel free to post any corrections or updates as a comment below…
Please note the access url for all Plesk Hosting/ Windows hosting accounts has changed.
You should have recieved an email about this if you were affected as for security reasons, the new urls will not be posted here.
If you didn't get the email please contact me to get the information resent.
As you may have noticed, we've started rolling out a new version of our own web site, which has been a long time coming.  The previous design has been in place with minor changes since we began offering Vermont web design services in 2003… it was about time to make some updates.
At this time the general look is fairly similar to avoid too much confusion with current clients, but we the underlying code and how the site is managed is quite different.  We converted the web site to a hybrid based on Drupal and WordPress content management systems.
We are using Drupal to manage the primary site and WordPress to manage the blog/news portion of the site.  At this point we have managed to convert and move all content from the old site to the new site and everything seems to be going well!
Some of the content is still not perfect and will need to be fixed, which we will be doing over the next couple months… fixes such as extra spaces, alignment and missing characters, small stuff, but things that should be fixed.
We will then begin launching some new features for better client/ project/ invoicing management.  We may be integrating a better way to manage client accounts directly into the web site where clients can login and view past work that was completed and invoices (current and past paid).
We are really looking foward to the new changes we have in store and hope you will  too!
Please let us know what you think so far and let us know what changes you would  like to see regarding online account management by commenting below.
We appreciate your business over the last 8 years and hope to continue serving you!
Our Windows Plesk Hosting accounts have been upgraded to the latest Plesk 9.5 version. This will help ensure a more stable control in the future.
More on Parallels Plesk:
Parallels Plesk Panel is the leading hosting automation control panel on the market. User-friendly and with multiple login roles that cater to all users, the Parallels Plesk Panel can have your web site up and running in no time.
The following tools are available at Parallels Plesk Control panel:
Create A Domain. Management of domain names.
Create Mailname. Management of email accounts.
Create a Web User Account. Here user can create accounts for website users.
Create a Database. Create or remove a Microsoft SQL or MySQL database.
Easily install applications and their licenses on your servers – including licenses for supported commercial applications.
Manage Files on Domain. Users can access and manage files with a web based file manager.
Plesk hosting with us is only $99/year or $10/month. If you have any questions regarding Parallels Plesk or Plesk hosting, please contact us.
For several months now we have been testing Google Voice with our businesses.  Overall it's worked out quite well.
The phone call quality is quite good and the extra services are great such all your voice mails being stored in a similar manner as gmail.
It makes it much easier to sort them, file them and search them when needed later.  When you miss a call, the message is saved and you are notified by email when a new one arrives.  Google Voice also attempts to transcribe all messages for you.  It's usually quite good, at least enough where you can figure out who and what the call is about before even playing the message. You can then tag the message with your own notes to further clarify or to remember things you want to say when calling back.
Another great feature is the call fowarding. Simply add any phone number to your Google Voice account and all calls are fowarded to that new number.
Then, there's the Do Not Disturb feature, which allows you to turn off phone calls and route them directly to voice mail if you are out or are finished work for the day.
Making calls is also so much easier. If you call the same person over and over, simply start typing their name or number and Google Voice will attempt to find the contact as you type then hit enter and Google Voice makes the call for you.
The BEST part is that all calls within the US are FREE.  How Google Voice does this is when you make a call, Google calls you and then calls your recipient and connects you to, so no charge for either party.  The calls are free, the local phone number is free… you only pay very low fees for international calls at this time.
Below is a quick list of some of the best features of Google Voice:
- Google voicemail: voicemail like email
- Voicemail transcription: read what your voicemail says
- Custom greetings: vary voicemail greetings by caller
- International calling: low cost calls to the world
- Notifications: read voicemail messages via email or SMS
- Share voicemails: forward, embed, or download voicemails
- One number: a single phone number that rings all your phones
- Free SMS: send, receive & store text messages online
- Block calls: send unwanted callers straight to voicemail
- Record calls: record phone calls and store them online
- Conference calls: join several people into a single call
- Screen callers: hear who is calling before you pick up
The only drawback is that on a rare occasion making calls won't work, but this is very rare and if this happens simply make the calls the old way until you can make phone calls on Google Voice again.  I assume that this is most likely due to large numbers of people signing up.
Definitely worth a try for your business… it will boost productivity and slash your phone bills.
We recently completed a major upgrade to our client's motel website.  The client wanted to be able to accept Motel booking reservations through their website.  The system needed to be able to sort through the rooms available, allow the user to select one that's available, book it and then pay for the room.
Then, notifications needed to be sent to both the motel manager and the customer.
The system also required some special features such as different rates by season, which are automatically calculated by date.
The system also needed the ability to apply discounts based on different memberships they are such as AAA, AARP, military discount, boker club, etc.
And finally, the system needed to allow the addition of extra services that are to be billed per night, per room such as extra people, pets, and extra cots.
We were able to do all this and the system has been running for a couple months now taking reservations and freeing up more time for the client while the website works in the background making sales!
Below is a quick list of the features of the Hotel Reservation System:
– Real time bookings
– Easy to administrate
– Front end & Back end
– Multilanguage
– Unlimited rooms type
– Assign room numbers
– Easy availability manager
– Minimum and maximum night stay
– Google Maps integrated
– Hotel photogallery
– Cancellation Area
– Booking Statistics
– Credit card encryption
– Could connect to a payment gateway
– Booking rate discounts
– Extra services
Check it out for yourself: www.swantonmotel.com.
Feel free to let me know what you think.  If you think a your site could use a hotel reservation system or something similar, contact me and we can discuss your options.
Recently we re-developed a meeting/ Secondlife presence for our client Lifenaut.com. We have been doing some "in world" Secondlife marketing to get the word out about the Lifenaut's free service with some success. We decided that it may be a good idea to start hosting presentations of the service and how to use it within Secondlife to interested inhabitants. We created this meeting center for Lifenaut for this purpose. Below you will the outside view of the building where the meetings are held…
When you enter the building you are in the seating/presentation area. This is where you would sit and watch a movie, slide presentation or interact with others and the presenters. We customized the building to suit the client's needs, landscaped the surrounding land and installed the presenter screen and computer to run it. We also trained the clients to run the system and to be able to present to their users.
Below is a photo of the seating/presentation area…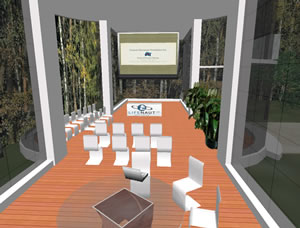 Here we have an area set aside for small meetings/presentations, or for people that may run the slides while the presenter talks or chats with the audience…
Most recently the client used this area to hold their annual board of directors meeting as this can be a very affordable and easy way for members that live far from each other to collaborate, hold discussions and present to each other.
Below is a snapshot of me (or at least an avatar of me) in Secondlife outside the Lifenaut meeting area sitting on a fountain I setup. This is area is open to the public to view. If you have the Secondlife software installed, click here: Lifenaut New User Center. If you don't have the software, download it here: Secondlife Download. If you would like me to help you out getting started, let me know and I can give you a tour!
If you are interested in using Secondlife to interact with your clients/customers, contact us and we can help you setup a presence in Secondlife and train you and/or your employees and how to hold meetings, presentations or advertise to Secondlife residents.